Special Announcement:
Forest Lawn Museum and the Hall of Crucifixion-Resurrection are reopening on April 28! Our new exhibition, Judson Studios: Stained Glass from Gothic to Street Style is on view from April 28 through September 12. New hours are Wednesday-Sunday, 10 AM-5 PM (closed Monday-Tuesday).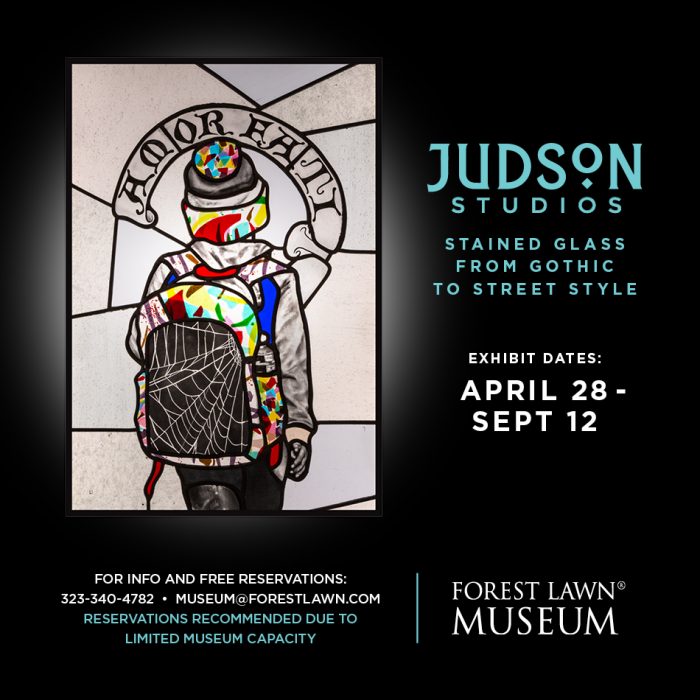 Free Reservations Recommended
For the health and safety of visitors and staff, Forest Lawn Museum's capacity is limited to 25 people per half-hour. For your free reservation, email museum@forestlawn.com with the following information: first and last name, number of people in your party, date, and time of your visit. You will receive a reply within 24 hours. Reservations can also be made by calling 323-340-4782. Walk-up visitors without reservations are welcome, however, they may be turned away if the museum is at capacity.
Additional Health and Safety Precautions
For the health and safety of visitors and staff, everyone is required to wear a face mask over their nose and mouth and remain a minimum of 6 feet away from people not in their party. Visitors are required to check in at the front door of the museum. Staff will conduct a verbal health screening and will collect visitors' names and contact information for Covid-19 contract-tracing purposes only (this info will not be used for our mailing list). One-way routing within the galleries will help ensure greater separation between individuals. Staff is regularly sanitizing high-touch surfaces, and touch-free hand-sanitizer stations are available for visitors. Thank you for helping us stay safe and healthy. We look forward to seeing you soon!